Georg Kargl Fine Arts @ Paris Internationale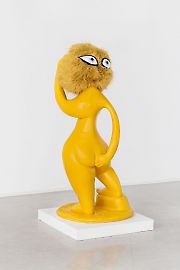 Georg Kargl Fine Arts @ Paris Internationale
Paris Internationale
18. - 22. October 2023
Booth 2.10
Georg Kargl Fine Arts presents works by Jakob Lena Knebl and Mercedes Mangrané.
The work of Jakob Lena Knebl engages with historical references, reimagining them in new ways, to consider how we construct meaning in our present. Having established a unique art-historically argumentative language that revolves around questions of corporeality, her work crosses boundaries between art, design, high and low culture, which echoes the fluid movements of identity. Paraphrasing "La grande baigneuse" (1947) by Henri Laurens, Knebl transforms the voluptuous female nude with erotic charisma into a cute, cuddly transgender configuration. Works from the 49th Venice Biennale by the artist are part of our presentation.
Mercedes Mangrané examines the embeddedness of cultural production within our daily lives. Mined from habitual encounters and translated into subconscious landscapes, the paintings explore the sensory conditions of such experience through the vibrations that occur within matter and shifts in tonal gradient. Traversing both a lightness and density of material, she engages a dialectic between instances of everyday occurrence and systems of cultural power, that reflects on the movements amidst finitude and transformation, form and formlessness.
press information
The Best Booths ar Paris Internationale - artnet.com