Artist Talk @ Georg Kargl FINE ARTS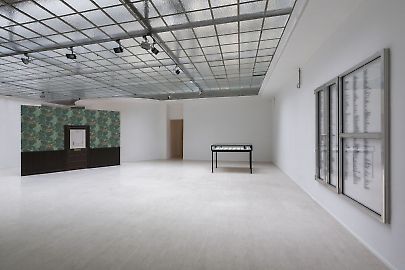 Artist Talk @ Georg Kargl FINE ARTS
Do.13.12.2018, 17.00 Uhr
Simon Rees, Mladen Bizumic, Andreas Fogarasi

IM DIALOG: Simon Rees erörtert in einem Gespräch mit den Künstlern Mladen Bizumic und Andreas Fogarasi auf welche Weise ihre Arbeiten das Ausstellungsthema "Dialog" der Gesellschaft für projektive Ästhetik bei Georg Kargl Fine Arts aufgreifen: wie stehen die Werke der beiden Künstler zueinander als auch zu Systemen der visuellen Repräsentation und Produktion? Wie lässt sich die repräsentative Funktion von Architektur und ihre Rolle in der Kunst definieren?

Anschließend laden wir Sie herzlichst zu einem weihnachtlichen Umtrunk in der Galerie ein.
______________________________________
THR.13/12/2018, 5 p.m.
Simon Rees, Mladen Bizumic, Andreas Fogarasi
IN DIALOGUE: Simon Rees discusses with artists Mladen Bizumic and Andreas Fogarasi about different ways their work intersects with the exhibition theme 'Dialogue' as one of the key concepts of Gesellschaft für projektive Ästhetik at Georg Kargl Fine Arts: and ways in which the works of the two artists relate to each other, as well as to systems of visual representation and production, and the representational function of architecture and its role in art.

Please stay with us after the talk and enjoy some Christmas hospitality.