Thomas Locher - KUBUS des Lenbachhauses, München 25/9/10 - 23/1/11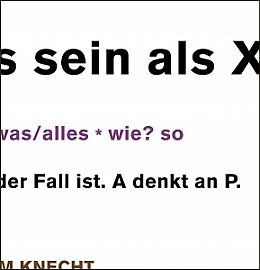 Thomas Locher, X UND NOCH ETWAS Y DAZU..., Entwurfsdetail, Städtische Galerie im Lenbachhaus 2010


Thomas Locher - KUBUS des Lenbachhauses, München 25/9/10 - 23/1/11
WRITTEN ON THE WALL III
X UND NOCH ETWAS Y DAZU...
In seinen Arbeiten geht Thomas Locher häufig von Zeichen- und Kommunikationssystemen aus, um das Verhältnis von gesellschaftlichen Bedingungen und individuellen Handlungsmöglichkeiten aufzuzeigen. In seinen Text-Bild-Konstruktionen veranschaulicht er die Funktionsweisen und Gesetzmäßigkeiten von Sprache, dem Hauptmedium menschlicher Verständigung, und untersucht die hierin eingeschriebenen Strukturen von Macht, Autorität und Hierarchie. Zugleich machen seine Werke deutlich, wie sehr unsere Aneignung der Welt sowie unser Denken von Begriffen geprägt sind, da die Wahrnehmung von Bildern und Realität immer sprachlich vermittelt wird.
Für den KUBUS hat Locher eine neue Textarbeit entworfen, in der er sich mit der besonderen Situation des Raumes als eine Art Guckkastenbühne auseinandersetzt. Rechts und links beginnen zwei jeweils sechzehnzeilige Textfolgen. Die Sätze und Wörter, die unterschiedliche Größen und Farben besitzen, reichen bis auf die mittlere Wand, lassen ihr Zentrum jedoch leer. Inhaltlich scheint es sich um Gegensatzpaare zu handeln und tatsächlich spielt Locher auf die Dialektik von Herr und Knecht an, die der Philosoph Georg Wilhelm Friedrich Hegel zu Anfang des 19. Jahrhunderts entwickelt hat. Von einfachen Behauptungen ausgehend, verfängt sich die von Locher aufgestellte Argumentationskette jedoch schnell in einem Netz aus Widersprüchen und Fehlstellen: "Es sind Gleichungen und Ungleichungen, die eigentlich wie Rechenbeispiele aussehen – nur, dass die Rechnungen nicht aufgehen", so der Künstler. Ein auf den ersten Blick in sich geschlossenes, logisches Modell offenbart sich als willkürliche Konstruktion.
Nach Jan Christensen und Sylvie Fleury bildet die Präsentation von Thomas Locher den dritten und letzten Teil der KUBUS-Reihe WRITTEN ON THE WALL, bei der Wandarbeiten im Vordergrund stehen.
Kurator: Sven Beckstette
KUBUS im Petuelpark
Klopstockstraße 10
80804 München
lenbachhaus.de
Der KUBUS ist nicht betretbar, aber immer von außen einsehbar.
VERKEHRSANBINDUNG
Bus 54 Barlachstraße / U3 Petuelring / U2 /U8 Milbertshofen
Der Kubus ist Teil des Kunstprojektes Petuelpark
www.quivid.de
_______
WRITTEN ON THE WALL III
X UND NOCH ETWAS Y DAZU...
Thomas Locher bases his work on systems of signs and communication in order to show the relationship between social conditions and the possibilities of individual action. In his text images Locher demonstrates the principles and grammar of language, the basic medium of human communication, as well as its inherent structures of power, authority and hierarchy. At the same time, his works emphasize how firmly our appropriation of the world and our thinking are rooted in words and terms since all perception of images and reality is mediated through language.
For the KUBUS Locher has devised a new text piece which takes into account the space's resemblance to a proscenium stage. Two rows of sixteen sentences each are attached to the left and rights walls. The lines are designed in different font sizes and colors. They continue on the back wall, but leave its center largely empty. Semantically, the texts seem to oppose each other, and, indeed, Locher refers to the dialectic principles of German idealist philosopher Georg Wilhelm Friedrich Hegel. Beginning with simple statements, Locher's argumentation soon gets caught in a web of contradictions and omissions. Locher: "These are equations and inequations, which actually look like sample calculations – only that the calculations do not work out at all." A model which at first sight pretends to follow logical structures reveals itself as a haphazard construction.
Thomas Locher's presentation marks the third and last part of WRITTEN ON THE WALL, a series of wall pieces at the KUBUS with previously showed works by Jan Christensen and Sylvie Fleury.
Curator: Sven Beckstette
KUBUS im Petuelpark
Klopstockstraße 10
80804 München
lenbachhaus.de
To get there by public transport:
Bus 54 Barlachstrasse, U3 Petuelring, U2/U8 Milbertshofen
Der Kubus is part of the project Petuelpark
www.quivid.de