MARCEL VAN EEDEN, CELIA (2004-2006), BAWAG CONTEMPORARY, WIEN, 2010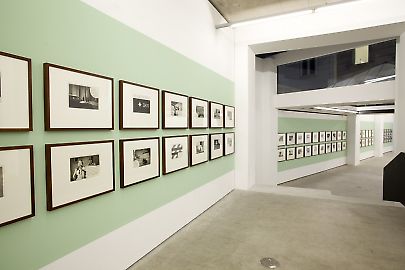 Marcel van Eeden
CELIA (2004–2006)
Ausstellungsansicht
© O.O.
MARCEL VAN EEDEN, CELIA (2004-2006), BAWAG CONTEMPORARY, WIEN, 2010
2/12/2010 - 30/01/2010
Marcel van Eeden, 1965 in Den Haag geboren, zählt zu den wichtigsten internationalen Zeichnern der Gegenwart. Das BAWAG Contemporary freut sich, seine Arbeit als erste Institution in Österreich vorstellen zu dürfen.

In seinen umfangreichen Bilderzyklen verbindet van Eeden reale und fiktive Biografien und rekonstruiert so die Zeitgeschichte der 1920er- bis 1960er-Jahre. Seit 1993 erstellt van Eeden täglich mindestens eine Zeichnung, die er in zunehmend größere Serien einbindet. Als Vorlagen für die meist schwarz-weißen Zeichnungen mit Negrostift verwendet er Zeitschriften oder Fotos und Texte, die alle vor 1965, dem Jahr seiner Geburt, entstanden sind. Er wählt aber nie historisch bedeutsame Ereignisse, sondern alltägliche Orte oder banale Situationen. Charakteristisch für seine Arbeiten ist der an den Film noir erinnernde Eindruck, der durch die fotorealistischen Darstellungen und die Verwendung von Schwarz-Weiß-Kontrasten bedingt ist.

Die Ausstellung zeigt den Bilderzyklus Celia, eine 148 Blätter umfassende Folge von Zeichnungen, denen fortlaufende literarische Textauszüge zugeordnet sind. Die Serie beginnt mit Passagen aus Der Spaziergang von Robert Walser (1917) und geht in ein Textfragment aus The Cocktail Party (1949) von T. S. Eliot über. Es folgen Stellen aus der Autobiografie des Hochstaplers Jack Bilbo, An Autobiography (The First Forty Years of the Complete and Intimate Life Story of an Artist, Author, Sculptor, Art Dealer, Philosopher, Psychologist, Traveller, and a Modernist Fighter for Humanity, 1948), und wiederum aus Der Spaziergang von Robert Walser. Schließlich hat van Eeden die Serie um Zitate aus Laatste dagen (Letzte Tage, 1927) des niederländischen Autors J. van Oudshoorn ergänzt.

Die Bilder und Texte, Orte und Figuren werden auf so spielerische und zugleich analytische Weise gemischt, dass die erste Betrachtung der Arbeit nur eine Ahnung vom Ganzen hinterlässt. Statt der großen sinnstiftenden Erzählung scheinen die Bilder eher mentale Prozesse wie Erinnerungen, Träume, Vorstellungen und Halluzinationen abzubilden, die unverbunden nebeneinanderstehen. So entfaltet sich eine Geschichte, welche die Vergangenheit gewissermaßen neu zeichnet und den Zeitfluss auf den Kopf stellt. Neben architektonischen Ansichten, Landschaften, Bildern von Städten und Menschen in unspektakulären Situationen trifft man auf Darstellungen von Katastrophen, Unfällen und Explosionen. Einzelobjekte wie Pistolen oder Torten finden ebenso Eingang wie auch immer wieder die Kunst.

Marcel van Eeden wurde 2006 mit seinem umfangreichen Zyklus Das Leben und Werk von K. M. Wiegand (2005/2006) auf der 4. Berlin Biennale bekannt. Zusammen mit weiteren Serien wie Celia (2004–2006) oder Der Archäologe. Die Reisen des Oswald Sollmann (2007) hat sich in den letzten Jahren ein komplexes Œuvre entwickelt. In seiner jüngeren Serie Witness for the Prosecution (2008–2009) verbindet van Eeden die Protagonisten seiner früheren Arbeiten miteinander.
Marcel van Eeden lebt und arbeitet in Zürich und Den Haag.
Bawag Contemporary
Bawag Foundation
Franz Josefs Kai 3
1010 Wien

Öffnungszeiten:
täglich 14 - 20 Uhr
Führungen jeden Donnerstag 18 Uhr

http://www.bawagcontemporary.at
office

bawagcontemporary [dot] at
12/2/2010 - 01/30/2011
Marcel van Eeden, born in The Hague in 1965, ranks among today's most important
draftsmen in the international arena. BAWAG Contemporary is pleased to be able to
present his work as the first institution in Austria.
Van Eeden's comprehensive series of pictures combine real and fictitious biographies
to reconstruct chapters of contemporary history from the 1920s to the 1960s.
Since 1993, the artist makes at least one drawing a day which he incorporates in his
steadily growing cycles. His drawings, mostly black and white and made with a Negro
Pencil, are based on magazines or photographs and texts all of which date from before
1965, the year he was born. The artist never goes for historically important events, but
chooses everyday places or trite situations. His works are characterized by a film-noir-like
quality that springs from the photorealism of his representations and the way he relies
on black-and white contrasts.
The exhibition presents van Eeden's cycle of pictures Celia, which comprises
148 sheets accompanied by continuing text excerpts. Celia begins with passages from
Robert Walser's Der Spaziergang (The Walk, 1917) and merges into a fragment from
T. S. Eliot's The Cocktail Party (1949). This is followed by excerpts from the confidence
trickster Jack Bilbo's Autobiography (The First Forty Years of the Complete and Intimate
Life Story of an Artist, Author, Sculptor, Art Dealer, Philosopher, Psychologist, Traveller,
and a Modernist Fighter for Humanity, 1948) and, again, from Robert Walser's Der
Spaziergang. Van Eeden has rounded off the series with quotations from Laatste dagen
(Last Days, 1927), a work by the Dutch author J. van Oudshoorn.
Pictures and texts, places and figures are combined in such a playful and at the
same time analytical way that a first examination of the work leaves only a vague idea
of the entire work. The pictures do not render some great meaningful narrative but seem
to depict mental processes such as recollections, dreams, ideas, and hallucinations rather
Bawag Contemporary
Bawag Foundation
Franz Josefs Kai 3
1010 Wien

Opening Hours:
every day 14 - 20 Uhr
exhibition talks every thursday 18 o'clock

http://www.bawagcontemporary.at
office

bawagcontemporary [dot] at