Artist Talk: Thomas Locher im Gespräch mit Prof. Sighard Neckel, 28/09/2010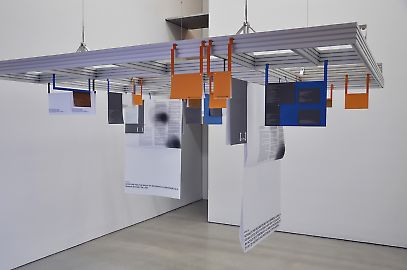 Exhibition view, Thomas Locher suspended, Georg Kargl BOX 2010
Artist Talk: Thomas Locher im Gespräch mit Prof. Sighard Neckel, 28/09/2010
Man wird ja wohl noch sagen dürfen.
Thomas Locher im Gespräch mit Prof. Sighard Neckel,
Vorstand des Instituts für Soziologie an der Universität Wien
Moderation: Dorothee Frank, Kulturredakteurin Ö1
28.9.2010, 18:00 Uhr
Georg Kargl Fine Arts
1040 Wien, Schleifmühlgasse 5
suspended, so der Titel von Thomas Lochers installativer Arbeit in der Georg Kargl BOX, verweist auf Fragen nach dem Innen und Außen von gesellschaftlichen Räumen, von Räumen des Rechts, und speziell darauf, was die Aufhebung oder Suspendierung von Recht für den Flüchtling als displaced person bedeutet.
Rechte, Menschenrechte, finden aber immer auch ihre Entsprechung in öffentlichen Sätzen, die, medial vermittelt, ein Bild sozialer Befindlichkeit wiedergeben.
Das aktuelle von Sighard Neckel herausgegebene Buch Kapitalistischer Realismus. Von der Kunstaktion zur Gesellschaftskritik, im Juni 2010 im Campus-Verlag erschienen, untersucht jene Paradoxien, die entstehen, wenn Kapitalismus zu Kultur und Lebensstil wird. Zu den Autoren/Autorinnen der Beiträge zählen Diedrich Diederichsen, Isabelle Graw, Robert Misik, Birgit Mahnkopf u.a.
Vor diesem Hintergrund entwerfen Sighard Neckel und Thomas Locher anhand sozialwissenschaftlicher wie künstlerisch-ästhetischer Praktiken eine Perspektive auf aktuelle Entwicklungen und Fragestellungen.
________________
Surely we're still allowed to say
Thomas Locher in conversation with Professor Sighard Neckel,
Head of the Department of Sociology at the University of Vienna
Host: Dorothee Frank, Ö1 Radio
28 September 2010, 6pm
Georg Kargl Fine Arts
1040 Vienna, Schleifmühlgasse 5
Suspended, an installation by Thomas Locher currently on show at the Georg Kargl BOX, raises questions of inside and outside in relation to social spaces and legal spaces, analysing the meaning of "suspended" rights for refugees and displaced persons.
But rights and particularly human rights are also referenced in public statements which, transmitted through the media, point to a society's sensitive spots.
Sighard Neckel's book Kapitalistischer Realismus: Von der Kunstaktion zur Gesellschaftskritik (Capitalist Realism: From Art Performance to Social Criticism) explores the paradoxes that arise when capitalism is both a culture and a lifestyle. Published by Campus-Verlag in June 2010, it includes essays by Diedrich Diederichsen, Isabelle Graw, Robert Misik, and Birgit Mahnkopf.
Against this background, Sighard Neckel and Thomas Locher will open up a perspective from the arts and social sciences onto current issues and developments.